Discover more from The Intentional Muse
The Intentional Muse is for the person seeking to live a more intentional life, become their own muse, and find the art in their everyday.
Issue #10: I'm Moving!
New York City and Life's Surprises
The year is 2017, and I vividly recall chopping a cucumber in my parent's kitchen, letting tears fall down my face. I had just returned from a trip to New York City and had been spending more time on the East Coast that past year, enjoying the sharp contrast to where I was then living in the Phoenix desert. Being closer to the water felt like home, I adored the city's walkability and felt a charge whenever I touched down near the Atlantic. The streets of Manhattan were magnetic. 
For Christmas that year, my Mom bought me the NYC Newcomers Handbook, and I was touched by this show of support, knowing that she didn't love the idea of my living far from the comfort of family but knew how deeply I craved the adventure. 
Fast forward to early 2018, and I cuddled into bed with my then roommates and broke the news I wouldn't be signing another lease. I had decided to move to LA that summer. I had been saving and saving, finding a few groups of other LA women looking for roommates, and even a few studios I could rent on my own in the Silver Lake area. It wasn't New York, but it was still a new-to-me big city, and I could drive home to family with my dog, who couldn't fly when needed. It had been decided. 
My lease was up in May, and I had travel taking up most of my summer, so I moved my few boxes into my parent's spare bedroom and blacked out an August weekend in my calendar to scout apartments. One night in July, I had a dinner with some girlfriends planned and didn't want to go. I was exhausted from my recent travel and wanted to watch Melrose Place with my Mom and sister. You know, important stuff! However, my best friend bribed me to go by promising to drive so I didn't have to Uber, and I reluctantly got ready while listening to what would become the soundtrack of that summer, High as Hope.
After dinner, my friends had to go home, but I had gotten ready and was now prepared to be out! I worked from home, and this outfit was getting its air time, hell or high water. The angel friend who drove me that night urged me to message a guy I had exchanged a few messages with on Bumble and invite him to grab drinks down the street. In a bold fashion, I texted him that I was out with friends but wanted to try out a new-to-me bar down the street. I'd wait 10 minutes before calling my ride if he wanted to meet me. If not, no worries! 
My now husband, Aaron, was there 10 minutes later. I went home that night and jotted in my journal that, just in case, I had to record that I think I met my future husband that night — and I wish I had let him kiss me!
A little over a month later, we saw a lot of each other, and he asked me if I was still planning to move to LA. He really enjoyed spending time together but wanted to know where things stood. I burst into tears, knowing I had to make a decision I had been attempting to avoid thinking about. I laid it all out on the table, explaining how badly I wanted to move somewhere new, and asked him if we were in love in a year, would he move with me? He answered, "If we're in love, the things you feel you have to do become things we have to do." 
That solidified things for me. I took a chance signing a year lease on a one-bedroom apartment, and it was the best decision I've ever made. 
Fast forward to late 2019, and we decided to pack up our things + move to Boston. The city felt right for us with its proximity to beaches, grassy parks for our dog, and Aaron snagging a job at a dream company of his. Since 2019, we've gotten married, lived in Italy for a stint, moved to a beach town for a year, and were hit with some major curve balls. In the last year, we discovered many of our most treasured belongings ruined in our storage unit, a large client of mine unexpectedly transitioned her business and no longer needed my services, mass layoffs impacted Aaron at his company, and that was just the tip of the iceberg. We knew we'd get through everything together, and I'm incredibly proud of how we have, but we both very much assumed that the year for achieving big dreams, 2023 was not. 
All of the aforementioned hurdles made us consider what we really desired out of the immediate future, and again, New York City came up. In recent years, we've been spending more of our time there. It was a place both of us had wanted to live before we met, and whenever we go, we feel so ourselves in a way I'm not sure either of us can fully describe… alive, creative, fully robust. We decided that if he found a job that would allow it, we'd make the leap. He did.
A few months later, we found ourselves embarking on apartment tours all across the city in the midst of the summer's hottest weekend. Friends had warned us it was a harrowing experience, but yikes. Lines to see apartments that had just opened up, truly filthy units going for well over our budget, I could go on. 
We had been hopeful about one particular apartment we saw and loved, but as we looked at other apartments "just in case" we walked up the street a ways to an area we instantly fell in love with. It had the perfect amount of stuff going on, was a few blocks from Central Park for Stabler, and not too far from the subway. We decided to see if the building we saw on the corner was a rental or owned — it was owned with no units available for rent. Bummer. But that's okay; we were sure we'd get the other apartment we had applied for, and it was still in a nice enough area!
Another couple beat us out. We didn't get that apartment. The next day, I woke up to a message from a broker. He apologized for the lack of reply; he had been on vacation, and might we still be interested? It would have to be a virtual tour since we were back in Massachusetts and had family visiting that week. Nevertheless, we said we were, we applied (eight letters of recommendation, two landlord recommendations, and the FBI's level of knowledge later), and almost a month later, we got the notice: We had been approved! 
Aaron ran out of the office upon receiving the email, and we blasted New York, New York, dancing as we opened a bottle of champagne. I'll never forget that moment. 
This past weekend, we pulled up with a car full of things and a whole lot of joy to the exact corner we fell in love with walking that day. Our new building is right across the street from the building we inquired about, and we didn't even know it. 
Life doesn't always play out as you have planned, but sometimes, it gives you a chapter that's so much sweeter. How incredible is that?  
To dreaming and living and loving through it all,
Kayli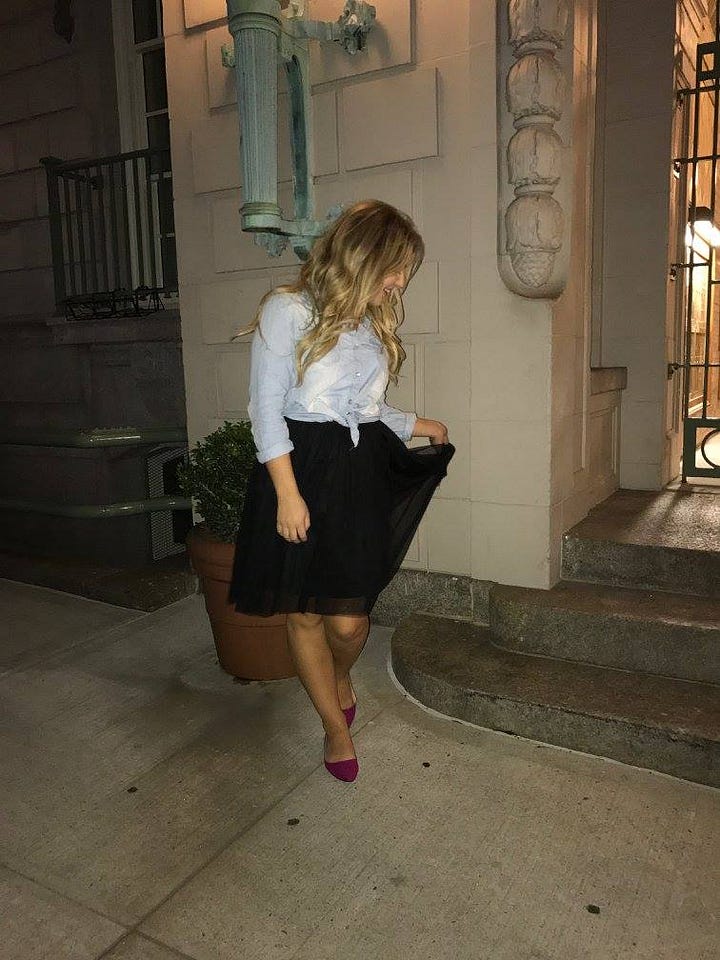 NYC 2016 // NYC 2017 // NYC 2022 // NYC 2023