Discover more from The Intentional Muse
The Intentional Muse is for the person seeking to live a more intentional life, become their own muse, and find the art in their everyday.
Issue #13: Coming Together
"Humanity is our ultimate community, and everyone plays a crucial role." – Yehuda Berg
Weltschmerz.
Following the tragedies in Israel and Palestine, I've felt heartbroken. For the lives lost, for the fear families across the world are experiencing, and for, being incredibly transparent, not exactly knowing how to help best when the scope of the pain is this all-encompassing. 
Weltschmerz. A German word that translates to "world pain." 
I don't know exactly how to help best, but I know, collectively, most of us are feeling a sense of weltschmerz, and because of that, I ached to share some of the ways I've found to uplift during a time that is quite chock full of despair. 
Personally, I always try to start with my own community during times of suffering. How are your Jewish friends? How are your Palestinian friends? Have you checked in? Held space for their feelings if they feel called to discuss? Held space for the ever-important joy in your community that can and does often coexist with pain? 
If I have the means, I donate to causes that help. When you use this link, Michael Bloomberg will match your donation 1:1. Other places to consider donating are the Alliance for Middle East East Peace, The American Jewish Joint Distribution, and the Palestinian Children's Relief Fund.
One thing that has been incredibly helpful in recent years has been finding ways that I can use my personal strengths to best advocate for causes I care about. Trying to do everything being thrown at us during times of deep sadness + conflict is a surefire way to burnout. We can't do everything for every cause, and that's okay. Deepa Iyer posted about this framework, along with how each archetype can help right now, and it is an immensely supportive resource. 
And as always, one of the best ways to help the energy of the collective is to take care of yourself, especially during turbulent times. If you're feeling in need of extra support, seek the help of a mental health professional, take a social media break, and/or text SHARE 741741 to connect to a live volunteer Crisis Counselor. You're never alone. 
Praying for peace, liberation, and the lifting of our weltschmerz, 
Kayli
Musing Over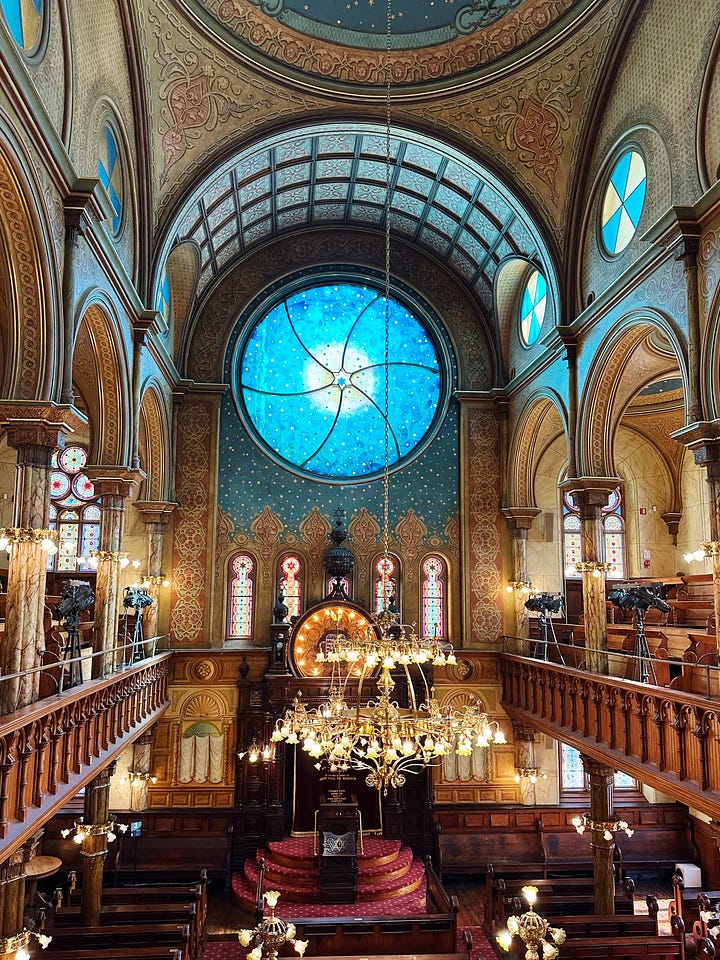 Odds & Ends
When I think of New York City, I can't help but think of Chinatown. This NYT article had beautiful insight into the next-gen of people bringing their creativity and heritage to the neighborhood. 
Okay, Old Navy is having a moment! I've been wearing these wide-leg jeans constantly, this black mock-neck top has not left my body, and this lace bra is (no joke here) the comfiest bra I own. 
Practical Magic just hits the mark every time. Someday, I hope to incite my own Midnight Margaritas tradition!
This Sungold Tomato & Crispy Garlic Butter recipe is on our menu this week + I can't wait. In my mind, anything
creates is (sun)gold. |
Update: It was
bonkers
good. We whipped some cottage cheese smooth in our
mini food processor
+ layered it onto the toast with it. Wowowow. 
I have sloped shoulders (I know, hard-hitting news), and because of that, I find myself often fishing for safety pins to bunch the back of tops and dresses together. No more! I recently bought this microstitch tagging gun + it has made last-minute tailoring, well, a stitch. 
This round-up of 31 feel-good movies is bookmarked! 
Like many of us, I've dreamt of having a neighborhood of all of my best friends. Turns out, living close to friends does matter, and so does how we plan our cities. 
I love adding this red Lucky Brand shoulder bag to my neutral outfits for a pop of color.
Swing On By
If you'll be in Newport, Rhode Island anytime soon, you'll want to swing by welcoming Thames Street newcomer, Matriarch. It's a feminist foodie's paradise filled with butter-soft apparel with slogans like "Shuck the Patriarchy" on them, gorgeous local artwork, cookbooks galore, gourmet bottles of vinegar + oils, kitchen accessories, and more.
Why Don't You Try…
Skipping articles in magazines that don't interest you?
Giving out a compliment to a stranger today?
Lighting candles with your supper tonight? 
The Elote Dip at Trader Joe's that has taken over my fridge?
Reading a book outside of your usual genre? 
Not heeding advice that doesn't feel right intuitively? 
Solving a crossword puzzle in lieu of your usual sunrise Instagram stroll? 
Popping some popcorn + watching "The Blob"? 
Adding a touch to your outfit that you'd normally believe was "too much"? 
Writing a handwritten note to a loved one + sending it in the mail? 
Taking a deep breath in and exhaling with sound three times? 
Giving yourself grace?