Discover more from The Intentional Muse
The Intentional Muse is for the person seeking to live a more intentional life, become their own muse, and find the art in their everyday.
Issue #15: The Joy of Conversation
Talking to Strangers, The Muse Gift Guide, and a Progressive Lunch. ✨
A note: This is a longer missive, so you may have to expand if reading in an email browser that truncates. x
~
I'm currently living in New York City, a city known worldwide for its go-go-go mentality, curt replies, and brash attitudes. I can imagine your surprise then when you hear that today's short essay is about the joyful conversations I've had with complete strangers in my still very new tenure here.
It all started sipping coffee one morning at a cafe table with my husband and our Corgi, Stabler. Stabler let out a little bark at a passing pack of pups that caused my husband + I to break in our conversation and hear someone at the table behind utter, "Ah, the queen's dog!" We turned around and chatted with the charismatic interior designer for over an hour. She regaled us with tales of how she was a former dental hygienist who had cleaned Jackie Kennedy's teeth, we all laughed about a time when she unknowingly asked Lord Mountbatten for taxi fare, and I sighed sadly when I had to run to an appointment just as she began telling us about her transition into the world of interiors. 
In the coming weeks, I struck up conversations with fellow Corgi owners who live on our street and heard about the origin of their dog's names (a delightful story involving a stint working in luxury hotels), a traveling couple from the South while I was pulled to the side whilst walking in Central Park, and time and time again waiting outside closed doors, in yoga class, at the butcher shop. 
Then, I met a colorful man in his 80s at a cafe near my house. I had tuckered into a green, lush corner in the cafe's patio area + excitedly pulled the book I intended to read out of my tote when I heard a voice, "Yeah, so you have to order upstairs if it's before 4." Unknowingly, thus began what would become one of my most treasured memories. 
We chatted for well over an hour, maybe two. I explained I was new to New York, and he had me pull out my phone to write down all of the spots in the area I had to go to. A pizza shop that has since become my favorite, a Turkish spot that's BYOB midweek, an Israeli ice cream spot that is decadent but can be a tad overpriced. He told me exactly how to get downtown the quickest on the weekends, so I would be delivered right to Jack's Wife Freda's doorstep (a buzzy brunch spot in town). 
He recalled hearing Frank Sinatra practice two floors below his apartment in the 80s (Paul Anka was his neighbor), a night when he unexpectedly found himself dining with Bianca and Mick Jagger, along with Keith Richards and his date, at a Chinese food spot right down the street. His eyes shone as he told me about his wife, who had passed years before, and how heads always turned when she walked in a room, and he felt incredibly lucky that she, a model, chose him, a high school Biology teacher (writer's note: I see the charm and level head that I'm sure were only a couple of the reasons they had the happy marriage I heard about). We went on and on chatting, gems of stories poured out that I'll keep close to my heart — all because I didn't simply say thank you and stick my nose into the book I had brought.
The world feels heavy right now; we can all acknowledge that. That's why, especially in these times, we must be extra intentional, not only about cultivating our own joy and sharing our own stories, but also by taking the time to listen to strangers in our day-to-day as a form of community care. 
My hope is that by taking the time out of my day to conversate with these individuals, I returned half of the joy they brought to me, and perhaps they go about the rest of their days with a little extra levity in their steps. 
Changing the world isn't always about the grandest acts of selflessness; sometimes, it can be as uncomplicated as putting away your book. 
Wishing you a week of connection,
Kayli
P.S. I deeply regret not getting the contact information for the two people mentioned. If any of these stories ring a bell, I'd love for you to contact me with any information that might help. hello@kaylimylius.com 
Musing Over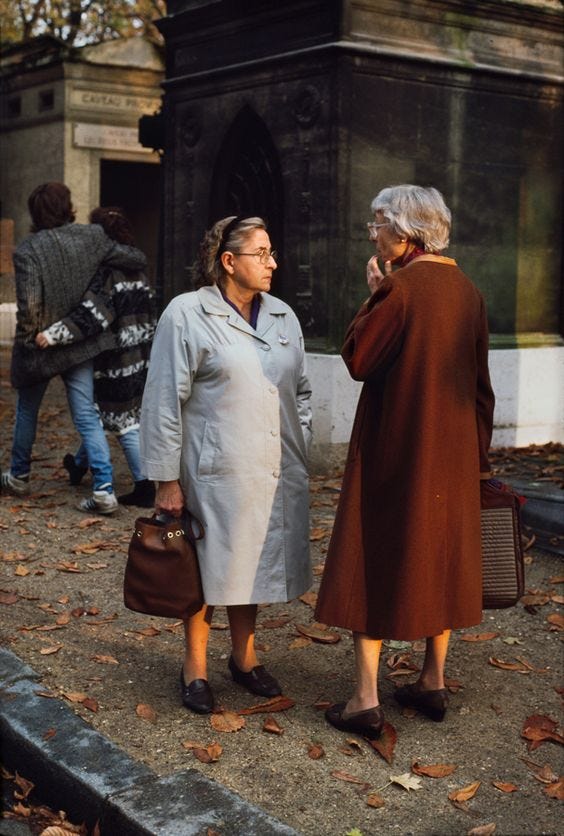 On My Holiday Wishlist
Other Links: Leather Gallery Photo Album // Hot Legs Candle Holders // Nutcracker Napkins // Duckhead Umbrella// Procera Gin
A Progressive Lunch in Manhattan's Chinatown
A few weeks back, Aaron and I spent the afternoon having a progressive lunch through Manhattan's Chinatown. Chinatown is hands down one of my favorite neighborhoods in New York City. With a dense population of 141,000 within the 1.7 square miles, it's bustling with street vendors, tourists looking for the next great dim sum spot, and locals running their everyday errands. It's busy in a way I can't help but irrevocably love (in contrast to, say, Times Square, which, aside from my beloved Broadway, I avoid like a bad habit), and it feels like every time I walk the bustling streets I find a spot I can't wait to return to — like each of the gems we visited on our lunchtime crawl. 
I'm still dreaming of Mei Lai Wah's Pineapple Pork Buns, Tasty Dumpling's Chive & Pork dumplings drowned in their house sauce, and the Powdered Matcha Donut Holes at Alimama. 
And the pièce de résistance? We spent a total of $17.50 for two people. Remember to tip well, as these are people's livelihoods in an increasingly expensive city economy and true diamonds that make up the high-quality fabric of the city.  
An Artist Date Idea 💭
You may call it an Artist Date a la Julia Cameron, you might call it a solo adventure, or perhaps even this is already how you stroll around in your everyday life (if so, hats off to you! May we all be as aware of moment-to-moment inspiration). Whatever you call it, it always gets my inventive wheels turning and serves as inspiration in my life, whether in my writing, meals I churn up in the kitchen, or in conversations that follow with friends. 
So what is it? 
A stroll through a museum or other location filled with someone else's art.
Not only is it such a gift to appreciate another's creative process (both for them and for you) but it also affords you the space to think in an abstract way that isn't often afforded to us mere mortals in our day-to-day. To take part, you simply have to browse, find a painting that inspires you, take out a pocket-sized journal (you can use the Notes app on your phone, though I find this distracting), and write whatever comes to mind. 
Some thoughts to jog your process if finding yourself uninspired… 
✏️ What is the figure doing? 

✏️ What is this piece trying to tell me?

✏️ Why do I think the artist chose the color they did?

✏️ What do I think the figure is enamored by?

✏️ What do I think the figure is going to do with the rest of their day? 

✏️ What does this piece remind me of?

✏️ What thoughts might the artist have had when creating it?

✏️ How does this piece make me feel?

✏️ How do I think this piece influences others? 

✏️ Who is the person in this piece? What was their life like outside of this solitary creation? Fictional or not?
Let your mind wander and enjoy. 
In The Grinder
☕ We can't get enough of this espresso from Birch Coffee. 
Trust.
---
Find this email inspirational, helpful, just enjoyed perusing? The most flattering thing you can do is share. 🤍