Discover more from The Intentional Muse
The Intentional Muse is for the person seeking to live a more intentional life, become their own muse, and find the art in their everyday.
Issue #2: A Lesson from Spring Cleaning
The Correlation Between Scrubbing Your Kitchen Sink + Creative Ideas
Hey, have you ever set out to unload the dishwasher or throw in a quick load of laundry + found yourself getting out the minivac for that tough-to-access spot behind the side table, running the clean cycle on your oven, and using the *special* oxygen-boost crystals to get out the stubborn water stain you suddenly can't stand the sight of for a moment longer? 
This was me last Sunday. I was on a roll! 
I scrubbed the cupboards, organized the plethora of bits + bobs that had accumulated on my desk, and yes, I even cleansed my crystals in a vat of epsom salt. 
As my apartment slowly started to gleam throughout the afternoon something else happened: I began to have idea after idea. 
Suddenly I had the thought to launch a 4-week incubator for women wanting to launch a dream they've been conjuring up, had an "a-ha" moment about a question I've been pondering lately, and had a blog post idea to share about other things I spring clean — my thoughts, my social media feeds, etc. 
The experience was simply thrilling! Was a sparkling sink the reason I hadn't been feeling as inspired? Why its taken me so long to feel that cozy spark of excitement surrounding a new project? Are these oxygen-boost crystals actually creative stimulants?
Yes and no. 
Yes, having a physical space free of clutter also helps to keep my mental space free of clutter but no, the oxygen-boost crystals aren't the reason I suddenly felt a glimmer of creativity reflected back at me in the shine of my refrigerator door. 
I believe my afternoon of spring cleaning gave me a flurry of thoughts + ideas for the same reason 72% of people get creative ideas in the shower:
I was participating in a solitary experience that allowed space for my mind to roam.
That means I wasn't listening to a podcast or music, checking texts here + there, or chatting on the phone (like I usually do while cleaning) and because of that, I was provided an afternoon free of outside opinions or chatter. I could only hear my own thoughts and that made a difference.
Next time you're feeling uninspired may I suggest…
Cleaning out your fridge?
Going for a walk sans headphones? 
Leisurely cooking a meal you know by heart?
Organizing the shambles that are your bedroom closet?
Taking a hot shower without knowing you have to embark on the 90-minute journey that is drying your hair after?
And let me know what your experience was.
To shower thoughts and scrubbing spots,
Kayli
---
Recs Ahead
In Kayla Briët's TedTalk she explains how artistic practices and storytelling are intertwined + how she fuses the two to reclaim stories of her heritage and asks the question, "What happens when a story is forgotten?" A talk that clocks in under six minutes, it makes me want to dig further into her body of work and discover more about her colorful Dutch-Indonesian, Chinese, and Native American heritage and ask myself, "What story do I want to preserve for future generations?" Tune-in, here.
This pack of 150 love notes to make your nearest and dearest smile has been dutifully sitting on my desk ready for use at a moment's notice since I spotted them in a small shop in Northhampton a couple of months ago. I've left them on my husband's pillow, sent a few to family members, and USPS'd a special "corn-y" joke to my Wisconsin friend. The notes are perforated making them easy to tear, each has a message on them making writing a personal note optional (though I 100% recommend penning at least a quick quip!), and are cute enough to be hung on the fridge or kept framed on a desk. You can pick up a pack, here.
I have to be honest. I hesitated to pick up the much-celebrated new release "The Creative Act: A Way of Being" for a couple of reasons: 1) Did I really need another book on creativity or did I just need to create with more consistency? & 2) The cover is extremely minimalist and made me think the contents would be stale. Yes, I judged this book by its cover and admittedly, I was wrong to do so! My mentor proposed this as a group read I'm a part of, so I picked it up.  Each page of The Creative Act seems to have nuggets of wisdom that feel like long-time knowing with a take that makes me want to journal paragraphs over a one-sentence sentiment and yes, create! You can order a copy and support a local bookstore, here.
---
Musing Over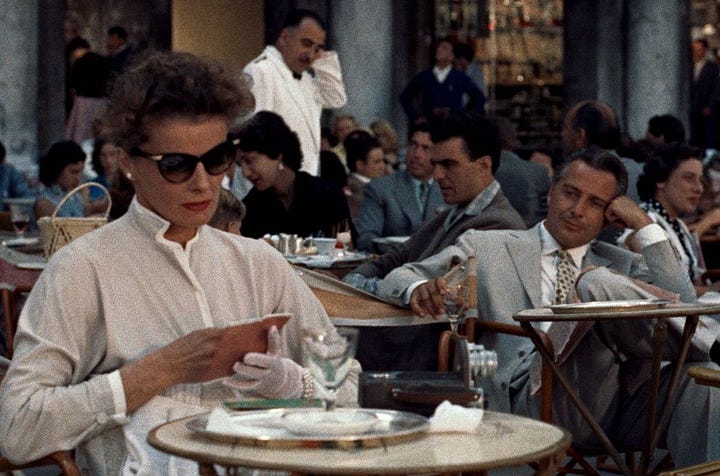 Katherine Hepburn in

Summertime

//

Trumpet Player

Source Unknown // Austin Kleon Quote //

Sunshine Rain

Source Unknown
---
5 Things I Do When In a Creative Funk
Watch old movies to get a different POV. I find myself more easily inspired when I take some time away from social media where trends abound and move into an era I'm less familiar with. Even subconsciously, it's easy to find yourself in a metaphorical box of creative boundaries when strolling, and flipping on the television + getting lost in a different time usually leaves me creatively stimulated. A few favorites are Summertime (1955), Sunday in New York (1964), and Funny Face (1957).
Go out with friends. Planning time to connect with people truly benefits our lives in a million different ways but for me, it's also a way to fill my creative cup. By choosing to spend time with folks I can "get to the nitty gritty", laugh, and have fun with I usually return to my solitude with new ideas, fulfilled, and motivated.  
Take myself on an Artist's Date! Coined by Julia Cameron in her seminal book The Artist's Way, an Artist's Date is a date you take yourself on anywhere that inspires you. I've gone to museums, out for coffee in a local old building I love, people-watching in the Boston Public Garden with a blanket and my journal, and to pottery classes. An Artist's Date doesn't have to cost much — it doesn't have to cost anything at all — but it should be done solo + with an open mind.
Create a collage. This was something I adored doing growing up and recently returned to after my dear friend invited a group of people over for a night of wine and collage-making. At first, I was apprehensive and then was made extra so when she told us we had a 30-minute time limit! How was I supposed to find just-the-right photos in this stack of magazines that embodied how I felt in a half an hour? What if I chose a quote, glued it on, then realized it didn't perfectly explain my desires at all + it was stuck there for all eternity? I love to write but anything artistic involving my hands is a no-go. Alas, I did it and am so glad I did! It brought me back to art as play at a time I was desperately attempting, albeit unconsciously, to only participate in art that would propel me forward. Now, it's a regular part of my practice! Thanks, Trinie. 
Do nothing. Or as explained above, something that doesn't involve a lot of thought. When I'm feeling stuck I know it's the perfect time to clean my oven grate, walk the beach, sit on my bed and stare out the window, or hop into a bath. I try not to push it + remember, everything has its season. 
---
Think On It
What's one thing you can do purely because you love it this week?
What's one thing you've been putting off because you've deemed something else more important?
What's the last thing that has inspired you? How has it inspired you? Was it the message, the colors used, or the feelings expressed? All of that and more? Take the time to dissect these things and then make a plan to experience something similar. Put it in your calendar as you would a work meeting!