Discover more from The Intentional Muse
The Intentional Muse is for the person seeking to live a more intentional life, become their own muse, and find the art in their everyday.
Issue #6: This Email Will Make You Hungry 🍅
Tomato Toast, French Dreaming, NA Cocktails, and a David Lebovitz Shoutout
A note: This is a longer missive, so you may have to expand if reading in an email browser that truncates. x
In 2019 my husband (then boyfriend) and I decided to embark on a road trip around France. We had been dating for about a year, and it was our first international trip together. It was a delight to learn that he took on carrying our one million seven bags like a champ (this brings to mind the famous Maya Angelou quote about how you can tell a lot about a person by how they handle tangled Christmas lights), that we both are keen to hit the ground running upon arrival, and that we both audibly "mmm" when we taste something amazing. 
One morning we'd greedily peel away at a warm baguette with butter and jam; the next evening, we'd have a side salad that could steal the show: unassuming fresh Provencal greens tossed in local olive oil. We ordered steak tartare with capers embedded into the meat that popped at just the right moment — and, yes, I even hangrily ate a divine hot dog on the Seine. 
The one thing that struck us as we ate our way through the country was how simple everything was. It felt like every ingredient used could shine all on its own, and as we sat at a roadside restaurant in Bordeaux eating a modest-yet-mouthwatering meal of grilled meat and greens, we vowed to take this value of joie de vivre back to our life in America. 
That attitude lasted about a month before our coursed-out meals returned to speedy dishes, and we traded in our farmers market arugula for store-bought. We'd reminisce on those bountiful weeks and get back on the wagon here + there. However, still, we always find ourselves returning to this way of life in summer more than most — when the berries are ruby red, and the greens are the color of shamrocks; when the sun is up late, and it feels silly to waste away a perfectly good evening doing anything but laughing over an hours-long meal. 
In honor of the generous simplicity that this cuisine I've come to love so dearly embodies, I hope this missive inspires you to shuck some farm stand garnered corn while dancing to music, grab a group of friends + sip wine at 5pm while chopping glossy basil, and no matter what you're eating, wash it down with a healthy dose of gratitude for another day given. 
There's a well-known French Proverb that translates to, "Eat well, love often, laugh a lot." 
Let's promise to do more of that, yeah?
To a life well lived, a kitchen well used, and more mmm'ing,
Kayli
Musing Over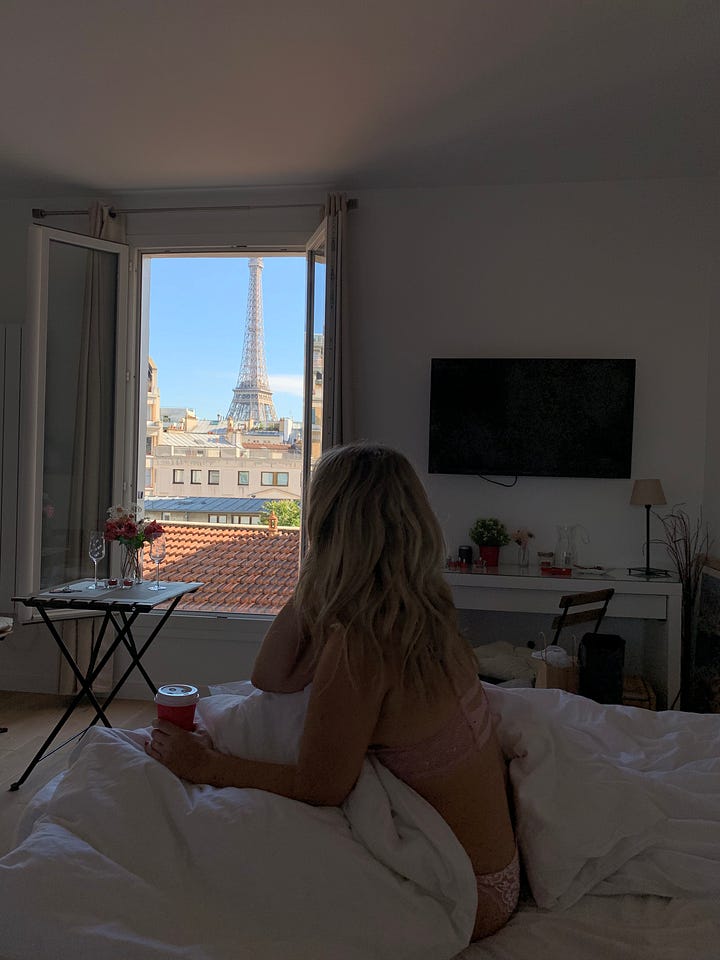 Kayli Enjoying Goods from the Boulangerie // "The Kiss" at Musée Rodin // A Hangry Hotdog + Wine Along the Seine // A Farm Stand in Provence
Food For Thought
I simply delight in food — eating it, cooking it, sharing it with loved ones, and reading about its influence on others. In fact, its quickly become one of my most loved book genres, with two Provencal titles leading the charge: Provence 1970 and Picnic in Provence. 
Other titles I've gotten lost in include…
Kitchen Confidential: Anthony Bourdain's straight-shooting account of his time as a chef is mostly set in his 1980s kitchens. You can practically taste the oysters as he describes trying them for the first time — a brininess seems to wash through you as you read the pages, and I'm happy to ride the wave.
Crying in H Mart: This book had me crying, laughing, and sincerely wanting to take a trip to my own local H Mart to meander through the storied aisles that Michelle Zauner describes in her NYT bestselling memoir. A book that melds the complex mother/daughter relationship (another genre I lean toward) and identity with the love of food, it's a book that stayed with me long after I'd finished.
Save Me the Plums: Written by the much-celebrated New York Times former food critic
, it's witty as much as it's inspiring and hunger-inducing!
Save Me the Plums
delves into Reichl's time at
Gourmet
magazine
(the golden age of print media is one I always read about wistfully)
and the incredible mark she left during her tenure. 
L'Appart: I'll be frank: I'm a
fan girl. His cocktail book,
Drinking French
,
sits atop our bar cart, and his cookbook,
My Paris Kitchen
, is one of the few cookbooks we keep on display on our small apartment kitchen countertop. L'Appart was always going to be a book I loved and I sincerely hope you do, too! A humorous recollection of the obstacles Lebovitz (an expat) had to overcome to renovate his Parisian apartment, combined with some of his go-to recipes, made for an entertaining read I didn't want to end.
Some other foodie books in my TBR pile…
In the Kitchen Essays on Food and Life, Love & Saffron: A Novel of Friendship, Food, and Love, One More Croissant for the Road, Coming to My Senses: The Making of a Counterculture Cook, and Eat a Peach: A Memoir.
You can access any of these + more through my Bookshop to support local bookshops, here, or through Amazon if you choose to, here. 
I'll Take Another
I'm in a season where I don't feel compelled to reach for alcohol quite as much (though my summertime go-to's are a Spritz Bianco or a White Negroni — if you're a Boston local, Frenchie does a White Negroni best!) Yet, I love the act of mixing up a little something to sip at the end of an evening or while I cook dinner. 
If you're in the same boat or perhaps just want to incorporate a few more NA cocktails into your rotation, I wanted to share 3 I always have at the ready.
🌹 Cucumber Rose Spritz: I discovered this one following Holistic Rendezvous on Instagram + had it saved for a while before I decided to make it. I made her recipe for rose syrup (though I kind of want to give this one a try), shook up a batch for us as we settled in for a leisurely Saturday afternoon, and wondered why I didn't make it sooner! It's now a staple in our house. 
✨ Seedlip Margarita: I have been a longtime lover of Seedlip. Their Garden 108 and Grove 42 bottles are always on my bar cart, ready to be mixed with my go-to low-sugar tonic. Still, when I want something more margarita-esque to sip on, I go for this recipe inspired by a drink I enjoyed once at the Boston Harbor Hotel awaiting a ferry. Enjoy with your next taco night, make a pitcher when friends come over, or just because.
🍒 A Grown-Up Shirley Temple: I recently got the hankering for a Shirley Temple (a few drops of Grenadine in 7-up, traditionally) but wanted to make it a little less sweet + enjoy some of my favorite Luxardo Cherries. The result? A perfectly refreshing sip for a day in the sun.
Tuning-In
France wasn't in the cards for us this summer; luckily La Pitchoune: Cooking in France came into our hearts via Max to save the day! La Pitchoune, lovingly nicknamed "La Peetch," was the French summer home of Julia and Paul Child. Nowadays, a group of four friends (at the helm is the delightful Makenna Held of
) run the grounds and have turned it into a
dream
of a cooking school. In this 7-episode journey, you'll follow the crew as they discover artifacts the Child's left behind, fix-up La Peetch, and, most importantly, lovingly show their guests the art of recipe-free cooking. They use a wonderful intuition-led recipe conjuring method that inspired our recipes while we watched so much that I think I'll
get their magnet
to inspire me lest I forget (while saving for a stay, of course!)
A Favorite Memory
In late 2018 my now husband and I hunkered down in my cozy apartment to pass a weekend watching Chef's Table: France. The pièce de résistance? The episode highlighting legendary chef Alain Passard who shook the culinary world by opening a three Michelin Star restaurant focused on highlighting an often underloved food group: The vegetables. 
Each day vegetables are taken from his garden (where they undergo an extremely thorough selection process) and placed on the tables of diners at L'Arpège so they can feast upon what should be considered no less than art. The best part? After a winter of dreaming about his creations over + over, we decided to splurge and book a reservation while we were in Paris that following summer. 
Bucketlist experience: Unlocked!
Our experience was one we discuss often — the bread (friends, this is the best bread + butter we've ever put to our lips) was replenished before you finished chewing the loaf you were biting into, the courses (of which we counted more than the eleven listed) steadily paced, and each bite more pleasantly arresting than the last. As we sat in our happy food coma the moment I had been praying for had come — Chef Passard himself was sauntering toward our table! 
As someone that admires those who master the craft of a cuisine, this was like meeting Taylor Swift or Tom Brady, so yes, after he kindly took a selfie with us I had Aaron take one of just-us-two. Laugh all you want! 
He was generous enough to sit + chat for a few minutes and I could ask him a question I now ask to anyone who loves to cook, "What's one secret to conjuring up a great meal?" 
He leaned in and said, "Love." 
I'll admit, I had been hoping for something along the lines of "always add an extra patt of butter" but as I look back on this experience, I appreciate his answer more and more… love — love of a snap pea, love of the person you're cooking for, love of a sauce when it creams just right, it really does mean everything.
A Bite for Lunch
Enjoy this newsletter? I would love it if you shared it with a friend! Each and every reader means so much to me + supports my work in a big way. x
Made it this far? Congratulations! You've unlocked a photo of Aaron toting around our luggage that fateful 2019 getaway!