Discover more from The Intentional Muse
The Intentional Muse is for the person seeking to live a more intentional life, become their own muse, and find the art in their everyday.
Issue #7: Summertime Peace
Full Moon Kayaking, Wild Horses, and a Movie To Make You Hot, Hot, Hot.
Out my window, the sun is shining (thank God, New England has chosen grey as its color du jour these days), and I'm writing this week's missive a couple of weeks ahead of time as I prepare for a vacation where I'll kick off my annual social media break. 
Around the time of my break last year, I wrote a quick note with a heading that reads "True Relaxation." Under it are just a few jotted-down things that brought me that feeling: 
Bacon-wrapped dates, reading, the urge to write and write and write, water, deep breathing.
Ironically enough, I found that note while searching for something I may have written that would inspire the message you're reading now; on an evening when I just want to walk my dog on a trail near our house, eat the Thai food Aaron just ordered for dinner, and cuddle into bed early with a good book. 
Bliss.
On that note, I won't be writing a meandering statement on this, that, or the other thing this week. I'll be embracing the tranquility we should all wrap our arms around when given the chance — and I hope you will too.
Big hugs,
Kayli 
Musing Over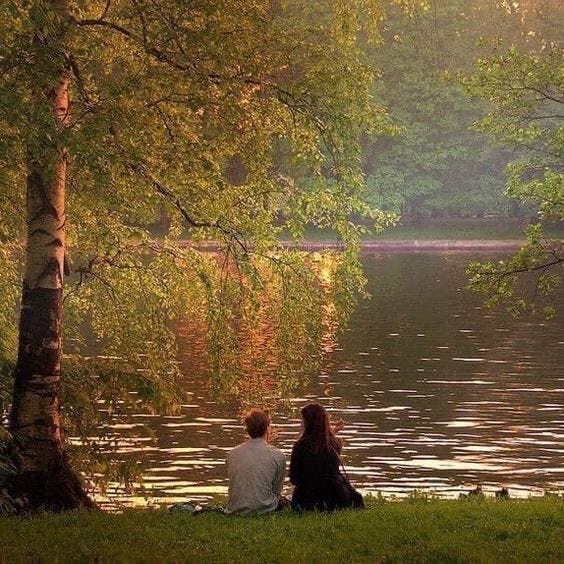 Summer Sizzle
I love spending a late afternoon sipping on something delicious and turning on a movie that invigorates the senses. A recent cinema appetizer? 1969's much-acclaimed La Piscine. La Piscine is set in the French Countryside where lovers Jean-Paul and Marianne spend the month in a poolside villa when their friend, Harry, and his beautiful daughter, Penelope, show up. The film is a feast for the eyes with a sensual backdrop, meals you can practically taste, and a sort of sexiness that only the French can seem to pull off. 
Watch with your lover or alone wearing your silkiest lounge set as the sun sets + enjoy.
We watched on Max, and you can too, here.
Summer's Swan Song
As we approach the second half of summer, I hope… 
You eat a bowl of fresh cherries and stain your fingers red.
That you fully submerge your body into water, letting it wash over you like a cleansing rain.
While we're at it, you pop outside + dance in a warm midsummer's downpour, grinning wildly. 
You play cards on a porch with a loved one while sipping a drink that makes you feel bubbly inside.
That you sleep in as the fan whizzes perfectly, only waking when you feel good and ready. Lingering in your sheets while your eyes adjust to the light.
Perhaps you listen to the birds chirp while making French Toast.
You take time to be with yourself, expressing yourself in a way big or small 
breaking breaking breaking 
sinking into the tenderness of this season
relishing in the peace and understanding the magic of a day well spent.
______________
Craving more ways to take in the season? Here are a few ideas… 
Find a local kayak rental center + get on the water to watch the Full Moon rise. The next Full Moon (the Sturgeon Moon) is on August 1st!
Google "best ice cream places near me" and visit the one that piques your interest. Eat it on a bench and succumb to your fingers getting sticky. If you're in the South Shore, MA area, I am a JJ's Dairy Hut fan girl! 
Spend a morning at a farmers market carefully choosing all of the finest-looking produce to whip up some of these No-Cook Recipes — perfect for summer. Bonus points if you invite a few folks to laugh + jovially appreciate your bounty alongside you! 
Many towns put on free outdoor concerts and plays throughout the summer. Grab a picnic blanket and attend one! If you're in Boston, there are several concerts at the Hatch Shell this summer, and NYC still has some Shakespeare in the Park dates.
Hit up a local farm and go berry picking while the gettings good! I recently returned with fresh strawberries for strawberry shortcakes, blueberries for a blueberry crumble, and wildflowers that adorned vases around my home. Talk about a haul! 
Beat the heat with a visit to a local museum or art exhibit + then go to a dinner somewhere you've never been before. If you're a Boston-area resident, may I suggest a stop at the Galerie d'Orsay with a dinner at Myers + Chang?
Choose a clear night and gaze up at the stars. You can even download this Constellation App to educate you on what you're looking at.  
Play This on a Sunset Drive