Discover more from The Intentional Muse
The Intentional Muse is for the person seeking to live a more intentional life, become their own muse, and find the art in their everyday.
Issue #8: Savoring Little Moments
The Science of Well-Being, A Book I Couldn't Put Down, and The Ultimate Muse.
I recently took a course on The Science of Well-Being. Over the ten weeks, I learned a lot of interesting facts and actionable ways humans can lean into happiness, but one really stuck out to me, and I've been working on implementing it into my life. 
The act? Thinking about how a good moment is fleeting when I catch myself in one. 
To some, this might sound counterintuitive. You might think that thinking about how a good moment will dissipate would send someone into a doom spiral, but realistically, most of the time, it helps you appreciate the good moments more while you're in them. 
I've been doing this with all sorts of happy moments, but I've noticed a significant bump in my personal pleasure in the seemingly "small" moments I may pass by quicker. 
Looking up from the television screen to a sunset with purple hues and fluffy clouds, I thought, "Wow. I'll never see this sunset again. How beautiful." 
As my husband and I walked the beach at low tide and saw the seashells wash up, I thought, "We won't live near this beach forever. How lucky are we?" 
My sister was visiting this past weekend, and we were laughing until our stomachs hurt at dinner, and I thought, "Soon she'll fly home and we won't be laughing within earshot of one another until the next time one of us hops on a plane."
Thinking these thoughts, I found myself staring at the sky a few beats longer, walking the beach mindfully noting the hues of the water, laughing harder than I was a second before — joyfulness arising from the knowing that these are moments I'll never get back.
And how lucky am I to be experiencing them?
Hoping we all take a beat to appreciate what we have while we have it,
Kayli
Musing Over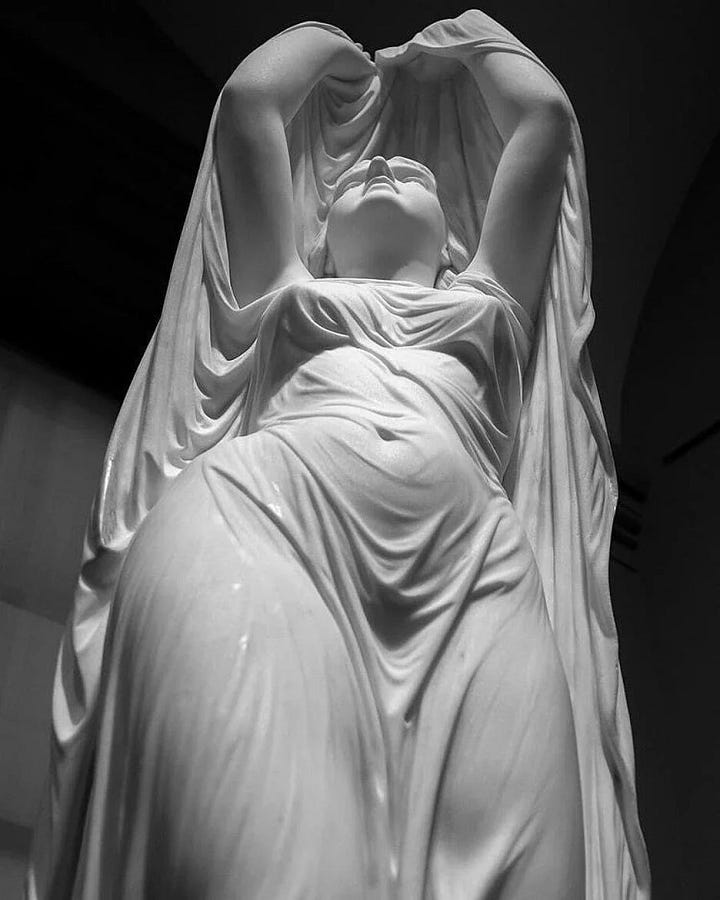 The Talented Mrs. Furniture Finder
Life is a beautiful muse, and I gain most of my inspiration from my everyday experiences.
What people are wearing as they pass me on the street, a flower I notice on my go-to walking path, an unexpected addition of sea salt on a cookie, and recently my husband pointed out, the furniture I spot in movies I watch, it's all art.
Decorating the spaces I inhabit is one of my favorite ways to express myself, and when I sit down to watch a movie, I often can't help but spot a unique lamp, an intricate headboard, or, as I'll touch on now: A gorgeous chair. 
As I spent a leisurely Saturday afternoon viewing the French Talented Mr. Ripley precursor, Plein Soleil, I was captivated by a round-backed swivel chair with fringe trim. 
Though swivel chairs were invented in the 1700s, they became quite popular in the 1970s as accent pieces due to the introduction of ergonomic lounge chairs in the 1950s. They are still captivating home decor lovers today, though not quite as easy to find due to their vintage status. 
Love them too? I've found a few you may enjoy.
1. I can't help but be enamored with this funky burnt orange chair I spotted here. I love that the leopard print brings an unexpected visual delight and that it's handcrafted with a 360-degree swivel. 
This accent chair style can be quite spendy depending on your budget, so I was thrilled when I came across this chair at Target designed by Jungalow! The creamy color means you can style it virtually anywhere, and the fringe bottom adds a bespoke element that can be tough to find in big box retailers. Note: This chair doesn't swivel, but I think the charm makes up for it, don't you think? .2
3.  This barrel back chair doesn't swivel but hits the mark with the classic fabric choice. I love that you could easily add fringe and that the cabana-esque stripes immediately transport you to a spot near the sea with a lover in tow. 
As always, I highly recommend you check out local antique or vintage homeware shops, as you never know what you'll find! This chair design can be quite pricey, so if you're hunting for it, I encourage you to snag a well-priced gem if found and head to an upholstery shop in your neck of the woods to bring it to life — your way. X
Loving Lately
Reading: I recently finished Banyan Moon by the fabulous
and couldn't put it down. Following three generations of Vietnamese American women, I can't describe it better than the novel's description did,
"[a] deeply moving story of mothers and daughters, the things we inherit, and the lives we choose to make out of that inheritance." 
Listening: Lately, I've been tuning in to the Good Guys podcast hosted by self-proclaimed good guys Josh Peck and Ben Soffer. Each episode has me laughing out loud, but I suggest you start with the episodes featuring Hilary Duff or John Stamos.
Watching: My sister recently told me to watch Hack My Home on Netflix, and it was a great lounging-around TV show. The show features four designers who go to homes to, yes, you've guessed it: hack them. The spaces they reimagine become much more livable, and some of the engineering feats really impressed me!
Write it Down, Plan it Out
---
Each and every share means so much to me as I work to grow The Intentional Muse. Thanks for your support! x
---
Thank you all for being patient as I got out this week's missive. My sister was in town, and I aimed to be incredibly intentional in pouring energy into her stay.