Discover more from The Intentional Muse
The Intentional Muse is for the person seeking to live a more intentional life, become their own muse, and find the art in their everyday.
Issue #9: Hello, 29 👋
Birthday Reflections, Cupcake Cones, and a Book Sale.
By the time you're reading this, I will have turned 29. 
Like most people, I once imagined I'd have a lot more figured out by now; however, I have to admit that lately, it feels like I've just begun a second phase of this thing we call adulthood. 
In the last four years, I've pivoted my career, moved cities twice, had a stint living abroad for three months, built new friendships, got married, received various certifications, dealt with health diagnoses that at times feel like a job in and of itself, participated in a Buddhism-centric cohort, and dealt with all of the other trappings that come with getting older. 
It has been a ride, and for the first time ever, I feel like I don't fully know where things will go from here.
Where will we live long-term, and when will we feel ready to figure that out?
How can I live a softer life while staying true to my ambition?
We want a family, and the "when" is looming over me as I get more serious about my reproductive health.
Our family is so important to us; how can we see them more while additionally steering ourselves toward other dreams we hope to accomplish? 
The list goes on… 
~ 
But I have learned this:
As arbitrary as it may sound, we make plans, and God laughs, so you may as well enjoy the adventure. 
There are seasons in life, which can be weeks, months, or even years, but when things change, they can do so instantly, completely altering life as you know it.
Sometimes you must just really do things "for the plot." 
Rising above and moving on will serve you far better than attempting to justify your worth to someone. 
Though must never stalk a person's social media before a date.
Find passions outside of work and know you never need to monetize a hobby.
Being vulnerable is the only way toward deep connection. 
Celebrate your loved ones how you would hope to be celebrated.
Cold call. Cold email. Go up to the person and introduce yourself. As they say, shoot your shot. 
Learn to enjoy solitude. There is no freedom quite like loving yourself. 
Ask to take a family photo when you see a parent struggling with a selfie. Put money into the tip jar. Laugh off someone spilling water on your lap. 
Boundaries are an incredible act of self-love, and so is compassion.
Call more often.
Be quick to forgive yourself and others; life's more peaceful when you do. 
Find a little luxury that lights you up. Fresh flowers in your living room, leaving room for an artisanal product on your grocery list, a blowout before a night out. 
When experiencing an event that brings you to tears, resist the urge to capture the whole thing on camera. Take a photo and then be there. 
Dance down streets, sing karaoke, start a podcast, publish your poems — you might feel 'cringe,' but that's the only way toward happiness, and isn't that more important?
All in all, I may not know as much as I thought I would about what the future holds, but I'd say the last 29 years have prepared me well, and for that, I'm incredibly grateful.
To another year around the sun and leaping into the unknown,
Kayli
Musing Over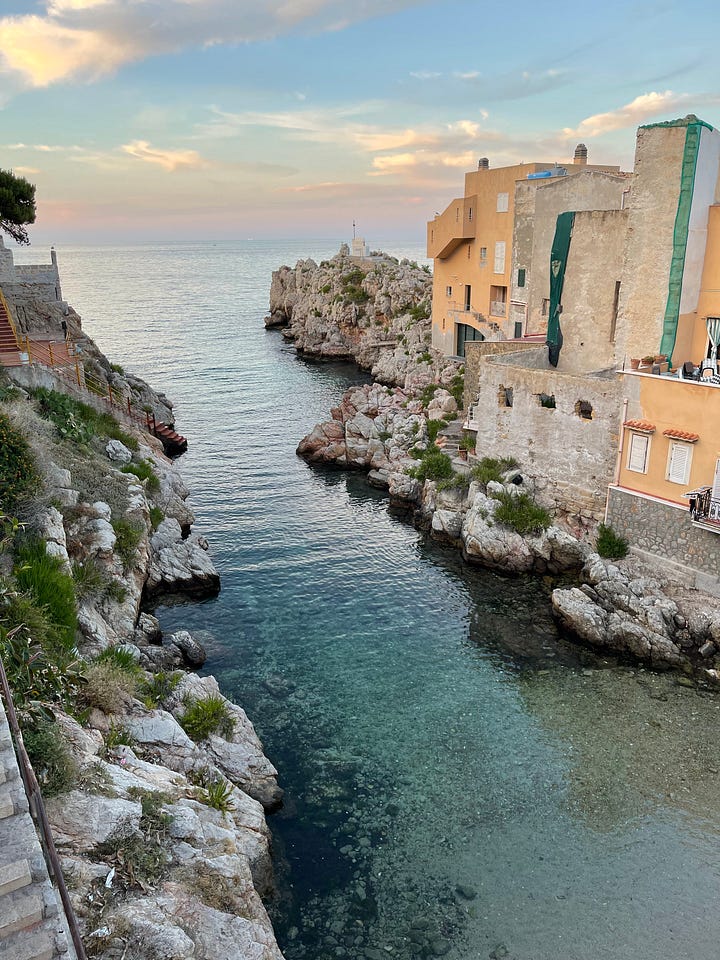 Sicily Dreaming //

Mari Andrews Inspiration

// A Note to Self // An Afternoon Dip
My Birthday Wishlist
The last year I've really taken a pause on buying new things as I aimed to put money toward other endeavors, conserve space in our apartment, and use + love the things I have. However, I am a Leo and can't help but spot a few things I absolutely love. 
I recently spotted this dress in a TikTok + loved it immediately. One of the great parts about getting older is better understanding the materials, patterns, and styles you feel your best in + this dress hits all three for me! Side Note: IMO, the static photo on their website doesn't do it justice. 
A couple of months ago, I asked thick-haired gals what their favorite deep conditioning mask was, and this one came up as a holy grail. Over the last year, my hair has gotten unusually dry, and I'm determined to find products that help it revert back to its silky smooth status.
Okay, this one is a little random, but if you've ever co-worked with me, you've likely pointed out how my laptop screen is always smudged. This lens cleaner has superb reviews and is tiny, so I can easily stash it in my laptop bag for on-the-go work dates. 
I was browsing a vintage sale a while back when I encountered a fairy lamp, and I regret not snagging it! A few days ago, my sister sent me this candle-fueled one, giving the item an extra cozy essence for the upcoming Fall months. 
Walking is one of my feel-good activities, and how I get just about everywhere! I also have varicose veins, which can make my legs feel super tight after striding long distances; that's why I was so excited to find these extra cushioned Hoka's.
As a lifelong journaler, I think I simply must have this book of remarkable diaries on my coffee table, don't you agree? 
Aaron always jokes that I think ball is life (despite having severe hand-eye coordination by default) because I love few things more than a good sports documentary. I recently went digging to see if Phil Jackson (head coach of the Bulls during the time of their 90's superstardom) had any resources related to his superb coaching, and he did indeed! His book, Eleven Rings: The Soul of Success, looks great.
Can I Have a Second?
✨ I recently returned to Instagram after my annual summer hiatus, and it felt good to disconnect from social media during a time of year when life is particularly hectic + I want to be sure I'm really soaking in all of the sweet moments these months bring. That's why when I saw the One Sec app recommended by
, my curiosity was piqued!
The One Sec app
urges you to take a deep breath each time you open a social media app, and because I've noticed I often open Instagram quite compulsively, I'm reminded that I have a choice in the matter and can choose to exit out on my phone. 
A modern-day zenminder.
Prompts for a Solar Return
*Sung in-tune to Music for a Sushi Restaurant *
I love a good time for reflection, and though I believe we can step into the person we'd like to be any day, there's nothing like sitting down on the fresh page of a new year and dreaming about all of the ways the next 365-days could be delightful as a cupcake cone (see next section). 
Before sitting with these questions, I enjoyed a Birthday Morning meditation on the Superhuman Meditations app, which helped me drop into my feelings around the privilege of another year and the joy that the following year can bring. 
These are a few questions I recommend pondering if you'd like a birthday morning reflection…
A Cupcake Cone Extravaganza
A kid in my 2nd or 3rd-grade class brought in cupcake cones for their birthday treat one year, and I kid you not, I have been dreaming of them ever since. They are the perfect treat — easy to make, crunchy on the outside, and soft on the inside. Aaron made me them using this recipe + I highly recommend you make them too. No matter when your next birthday is!
Books & Clothes Galore
Later today, I'll post this stack of books (plus three more!) to my Instagram Stories, and they'll be for sale to U.S. readers. 
The cost will be: 
$4 Paperback
$8 Hardcover
$4 Media Mail Shipping (if you buy more than three, I'll eat 50% of the media mail shipping and Venmo you for the remainder after I hit up the post office.)
A portion of the proceeds will be donated to the Maui Strong relief funds.
 If the Stories are down by the time you hop online, just DM me + I'll send you photos of the remaining books! 
P.S. I'm also selling a bunch of clothes soon (some worn only once!), so keep an eye on IG Stories for that as well if you're interested.