Discover more from The Intentional Muse
The Intentional Muse is for the person seeking to live a more intentional life, become their own muse, and find the art in their everyday.
Issue #5: The One Where She Speaks to the Waves
The Power of Positive Thinking, My Go-To Matcha Recipe, and a Stop at Affirmation Station.
Last month I had a dream that I was standing in a glassy ocean at sunset. The colors were the most beautiful I've seen — burnt oranges, peony pinks, and hazy purples blending into one another — and I stood with the water to my calves in a silky nude dress, staring out at the horizon. It was blissful silence for a while as I stood in this paradise, but then the waves started to crash higher than I'd liked. They weren't toppling me over, but I was experiencing discomfort + wanted them to calm down so I could stay in this nirvana longer.
That's when something magical happened. 
I began to speak in love letters to the waves. Words of affirmation, telling the sea how beautiful she was, how proud I was of her tenacity, her vastness. I decided to be purposeful with my words, only speaking positively, and each time I did, the giant waves I saw coming at me calmed + only lapped gently at my ankles. 
Typically, I forget my dreams as soon as I wake up, and very rarely do they strike me as prophetic, but this one stuck with me.
Did my subconscious yearn to remind me that I should go easier on myself? 
That my innate positive nature should be celebrated even when the world may deem it naive at times?
Perhaps prioritizing positivity can help on my hormone health journey? 
Since that dream, those are a few of the questions I've pondered, and the answer to all has been a resounding "yes." 
I share this today so that we can all think, "What might our internal oceans look like if we commit to positive thoughts in a real way? Might the waves of our psyche be healthier? Our boats more sturdy even when they're out at sea?" 
I think so, and I hope you find the same to be true too. 
So much goodness beaming towards you,
Kayli
---
Musing Over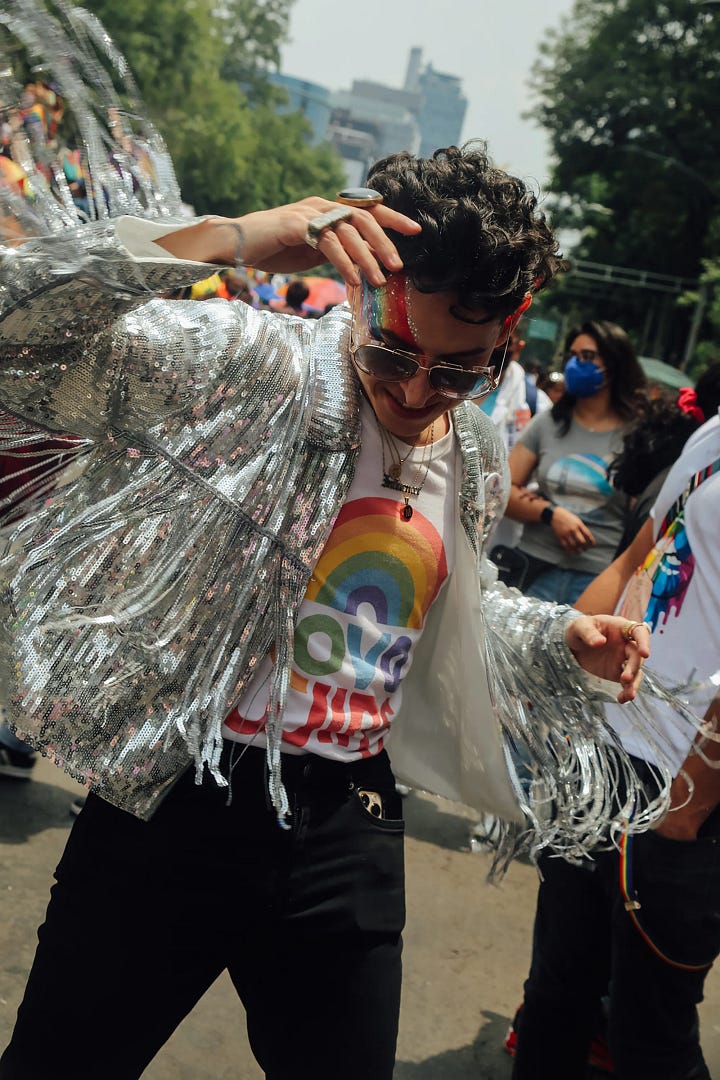 ---
Pride
June is Pride Month. A time to celebrate LGBTQ+ people, of course, but also a time to double down on how CIS-gendered folks can lend their support now and how they can continue to throughout the year. I found this article by Mikhal Weiner to be highly informative + donate to The Trevor Project, an organization that provides 24/7 crisis support services to LGBTQ+ young people, every quarter. 
There are many ways to support, and if you're a CIS-gendered person, I hope you'll pause now to think of ways to contribute regularly to the well-being of the LGBTQ+ community. 
"Equality means more than passing laws. The struggle is really won in the hearts and minds of the community, where it really counts." – Barbara Gittings
---
Affirmation Station
I've been on and off with affirmations for a little over a decade now. I first learned about the power of positive thinking in high school and, since then, have had spurts of writing positive quips on PostIt's, leaving them in places I often see — to the side of my laptop mouse pad, on my bathroom mirror, inside the cupboard where I keep my dishwasher detergent. 
During those spurts, I always noticed an uptick in my mood; it wasn't magic. Significant research shows that self-affirmation activates the reward center in your brain, which then releases dopamine, reinforcing the positive thought. 
Over the years, I've chosen many an affirmation to focus on and I wanted to share a few of the ones that have been especially potent on my journey in hopes you might find one or two that resonate with you too. 
None of them your cup of tea? That's okay! Feel free to check out a blog I wrote that includes instructions for writing your own affirmations or read a few other suggestions. 
Love an affirmation you read above? Stroll to the bottom of this post + download your favorite as a phone wallpaper.
---
Morning Matchas
I absolutely love matcha in the morning for many reasons. It has been shown to improve brain function, the caffeine takes me on a steadier ride than my beloved coffee (a plus for my PCOS + anxiety), and it just tastes incredible.  
Since I've been on quite the kick lately, I wanted to share my go-to recipe with you! 
Make + enjoy.
These are the tools I use to make my morning matcha. Please note that you don't need special tools or top-notch honey to make a delicious cuppa. 
I encourage you to make this cup about the ceremony — mindfully mixing the ingredients, setting an intention, infusing your drink with love, energy, or another desire, and noticing how it tastes upon first sip. 
🍵Some Other Matcha Bits I've Loved: My old favorite milk frother on sale for $27 (it lasted me years + I upgraded to the Breville for the size which I use for my cacao and other hot drinks) // Bamboo Matcha Whisk // I love a mug with a thumb rest
---
A New Habit
Noticing yourself more down on yourself than usual? Try a thought-replacement technique. 
When you notice an anxious thought, take a deep breath and think of 3 positive ones. It can be an affirmation that goes against the anxiety-inducing thought, a memory that makes you smile, or an attribute you love about yourself. 
Positive thinking can reduce stress and in turn, have a multitude of health benefits. Why not give it a whirl? 
Example of a Thought Reframe:
"I will never learn how to do this!" can become "I can learn new things. Remember when I learned [insert task you learned how to do here]!"
Tip: List happy memories and attributes you love about yourself in your Notes app. If you can't think of one when experiencing an anxious thought, read through the list + repeat one until you feel anchored in the thought. 
A Note: Therapy can be an incredible place to explore tough emotions that arise, and if you have an interest in attending a session or your day-to-day is beginning to feel heavy, I highly recommend reaching out to a licensed professional.