Discover more from The Intentional Muse
The Intentional Muse is for the person seeking to live a more intentional life, become their own muse, and find the art in their everyday.
Issue #12: Trusting in the Process
Lunchtime Recipes, A Recorded Breathing Exercise, and Links to Stroll
A note: This is a longer missive, so you may have to expand if reading in an email browser that truncates. x
~
The evening was incredibly calm, and my legs were criss-crossed as I took in the scent of palo santo wafting in the air. I was lingering after a group meditation, soaking in the peace I felt before leaving this serenity bubble for the streets of New York City, where inevitably, I'd be immersed in the throes of people rushing down Second Avenue. Before I left, I was chatting with my mentor, who led the class, and she said something I thought about the whole walk home.
I'll get to that, but before I do, I have to say that I've always been someone who watched her life miraculously come together without hyper-focusing too much on it. That doesn't mean that hard work wasn't at play, that privilege didn't lend its golden hand, that there wasn't a healthy dose of dreaming + scheming… Rather, I set my mind to something, and whether it be weeks, months, or years down the line, I astonishingly saw many of the visions I once held taking form before my eyes, like God's magic trick. These haven't been arbitrary things I wished for — a lottery win, a complete cure to any of life's qualms, but instead, experiences I knew deep down were meant for me, and so I was able to let somewhat go + watch them fade into the ether, knowing they'd take shape in due time. However, it wasn't until that evening that I really thought about this mystical formula when my mentor said, "I didn't even know you were in the city yet. You mentioned wanting to live here a few months ago, and poof, you're here!" 
I am here.
I thought, "This would be incredible." And then I did one of the most difficult things anyone with a big dream can do. I took the necessary steps to make it happen while letting it go, believing that if it all worked out, that would be amazing, and if it didn't, another road would unfurl before me, and that would be great, too. The unanswered prayers that light the path of my reality have proven that. 
The point of this whole reflection is, how can I hold on to this belief in a season of prolonged waiting? In the situations where I'm not as easygoing and want to hold the reins tightly? 
For starters, I can go easier on myself. I can choose to tell myself that I'm worthy of X, Y, or Z simply because I woke up to another day. I can continue to tell myself that even when, especially when, it's more difficult for me to accept that fact.
I can continue to explore my multitude of passions. Unraveling the strings of possibility without the chains of pretense, unshackling myself from the Capricornious desire for results. 
I can come together in safe spaces and share how I'm feeling — walking down the streets with friends, in community containers, lying in bed with my husband at night — and know that, for me, sharing is medicine. 
When the going gets rough, and I feel stuck in the mud of an endless Spring, I can look to this sweet moment in my life where things worked out, and didn't it all come in perfect timing? 
Holding space for your divine timing,
Kayli
Musing Over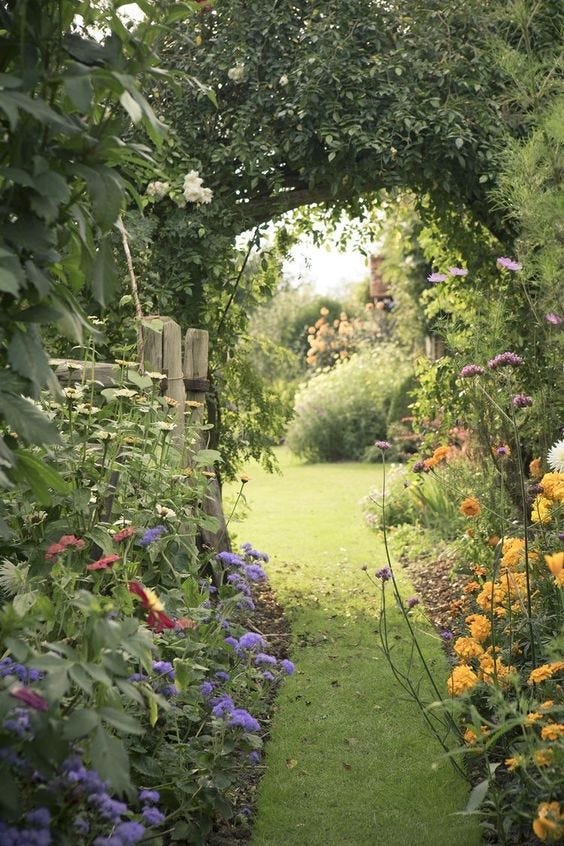 On Le Menu
Lunchtime Salads Edition
Feta Cucumber Avocado Salad // I have made this for lunch more times than I count. The tartness of the feta, the undertone of the grassiness of the dill, the freshness of a cucumber crunch, along with the punch of the onion… I… simply cannot think of a lunch I prefer to this. That is, at home, since I will never say no to a cafe lunch of escargot, steak tartare, and a glass of sharp white, please. 
P.S. To make this a bit more hardy, I'll buy pita pockets and a tub of my favorite hummus to eat alongside the meal. 
Classic Macaroni Salad // This macaroni salad has been a summertime staple in our house. We use Banza Pasta to add in a little extra protein and find it delicious, filling, and something we can't wait to eat when lunchtime rolls around each day. Also, don't skimp on the pickle juice! It truly helps make this dish *chef's kiss.* 
 Crispy Chicken Caesar Salad // Aaron has really come into his own as the Meat Maker™️ of our household and made the best crispy chicken for this caesar slaw salad. I loved how thin the greens were cut up and the dressing was superb (though I did double the recipe to add throughout the week!)
Take a Breather
When I'm feeling overwhelmed, one of my most tried and true ways of calming myself down is through breathwork or pranayama. 
Why?
Taking a series of deliberate, deep breaths can help stimulate your vagus nerve. Your vagus nerve contains 75% of your parasympathetic nerve fibers, making them incredibly important in calming your nervous system so your body can go into what many call "rest and digest" mode — the counterpart to your sympathetic nervous system's "fight or flight" response. 
Today, I wanted to walk you through an easy breathing technique you can use the next time you're feeling overstimulated, nervous, or simply just desire to take a moment to yourself. 
You can follow the steps, below, or listen to the audio here.
Right now, I invite you to sit down and nestle into a cozy spot. If you feel safe doing so, I invite you to close your eyes and place one hand on your stomach, and the other on your chest.
Breathe normally and feel your body sinking into where you are, imagining yourself rooted into the Earth. Simply take note of how you feel.
Next, breathe in for a count of seven seconds. Bring the breath all the way down to your stomach, feeling it expand and then your chest. If it feels good to you, take in a few additional sips of air. 
Then exhale for a count of 11 seconds, slowly letting the air escape. 
Repeat the inhale of seven seconds, exhale of 11 seconds as many times feels comforting to you. 
When you're ready, rub your hands together creating warmth, placing them over your eyes as your breathing returns to normal. 
Once you feel called, place your hands on your lap and flutter your eyes open. Go forward knowing you just took a necessary step towards inner calm; something to be so proud of.
Artwork by Elenore Abbott, Image found on Pinterest
Odds & Ends
Ruth Reichl and I use the same OXO food scraper and that's all I'm saying. This round-up of her favorite kitchen items was a fun stroll for any fans of Save Me the Plums, Garlic and Sapphires, or any of the other countless (incredible) works she's cultivated throughout the years.
I got these pajamas for a pajama themed party I got tickets to and have been loving them ever since. I got the white color and they're extremely chic with the ruffle hem + comfy to boot. 
I'm a fresh fan of the inKind app and need to shout about it from the rooftops so you can be too!! So what is it? Well, friends, buckle up. inKind allows you to receive money back from popular restaurants and I'm talking, a significant amount of cash kept in your pocket. I'm not a subscriber, and I've still received offers from names I was shocked to see. Examples: I'll receive $50-off of the bill from a French spot in my neighborhood when I spend over $150 (a fairly easy thing to do when having an evening at an upscale NYC joint) making it a $100 hot-to-trot date night and the same offer from Nubeluz, a restaurant and pricey cocktail bar with some of the best views of the city. 
May I remind you how damn good Three Men and a Baby is?
Go-getting artist, Anastasia Inciardi, is now selling her kitchen-themed prints for four quarters a piece in vending machines + it has been a hit. She recently installed one that holds 500 works at dinner party shop, Big Night, in Brooklyn and they soldout within a day. I've long wanted to pop-in and looks like I just need to now. Fingers crossed for her butter art print! 
Light some candles, pour yourself a glass of something tasty, and dance around your kitchen a la Meryl in It's Complicated whilst listening to this RomCom playlist. 
In September, I had the pleasure of reading Tom Lake, a book that quickly became one of my top reads of the year. I have to admit, if it weren't authored by Ann Patchett, a writer I deeply admire, I might not have been inclined to pick it up given its pandemic backdrop, which, for me, still feels too close to home. Nevertheless, Patchett skillfully navigated this challenging setting, crafting a compelling narrative that reunites three adult daughters on their parents' cherry farm. Here, they are treated to the captivating tale of their mother's summer romance with a famous actor.
Being my own best advocate in a healthcare setting has been a skill I've tried to hone over the years + these are tips I co-sign for your next visit to the doctor's office.
I have a nut allergy so I often make my own basil pesto. I throw mine together sans recipe, but I came across this one and it looks really close to what I do! Delicious and you can throw spinach in as well for extra greens.
Write It Out
Find this email inspirational, helpful, just enjoyed perusing? The most flattering thing you can do is share. 🤍